Expert Legal Guidance for NRI Land Disputes in Punjab
NRI Land Disputes in Punjab
NRI land disputes in Punjab can cause significant problems. when property ownership is lost when power of attorney forms signed by friends or family members are misused and used to sell or transfer properties without the owner's knowledge or consent.
At RK Legal Advisors, we have a team of seasoned solicitors with experience starting the required criminal and civil proceedings to rectify these unlawful and unauthorised land transactions. We are aware of the difficulties that can arise in such circumstances.
Unfortunately, NRI land disputes in Punjab are widespread and they can be very upsetting for people who are abroad and may not have direct control over their holdings in India. These disagreements frequently result from the abuse of a Power of Attorney, a legal document that gives another person the ability to act on the property owner's behalf. Unscrupulous people may occasionally abuse this power, resulting in illegal sales or transfers of land or properties without the owner's knowledge or agreement.
At RK Legal Advisors, our committed team of solicitors specialises in negotiating the complex terrain of NRI land disputes in Punjab. We are knowledgeable with the difficulties and legal complications involved in contesting such transactions. The property rights of our customers are safeguarded and restored because of the success we have had in bringing both criminal and civil cases to halt these illegitimate land sales or transfers.
We are dedicated to offering efficient and quick solutions since we have a thorough understanding of the legal system and a great deal of experience addressing NRI property disputes in India. We make every effort to settle these issues in your favour since we understand how important it is to secure your assets and investments in India.
Don't be afraid to contact RK Legal Advisors if you find yourself involved in an NRI land dispute in Punjab. Our group of knowledgeable solicitors is here to help you and will use their skills to protect your property rights and stop any unauthorised transactions. You may rely on us to resolve NRI land disputes in Punjab on your behalf and to your advantage.
Illegal Possession of Land or Property
RK Legal Advisors lawyers are well-equipped to handle civil and criminal proceedings to help NRIs regain possession of their properties from such illegal occupants.
Encroachment, Land Grabbing, and Fake Land Records
NRIs are vulnerable to encroachment, land grabbing, and creation of fake land records in government records due to their absence in Punjab. We have skill in dealing with land grabbing mafias and can take appropriate legal action to free the land of our NRI clients from encroachment and possession of such mafias.
Adverse Possession
The concept of adverse possession can lead to NRIs losing their properties in Punjab if a trespasser or caretaker claims continuous and uninterrupted hostile possession for over 12 years, within the knowledge of the NRI. Our lawyers provide comprehensive advisory to prevent NRIs from losing their properties to adverse possession and offers consultations to determine if a certain possession would amount to adverse possession.
Dispute Between Co-Owners
NRIs often inherit properties in Punjab and become co-owners with Punjabi residents. Disputes can arise between NRIs and their Punjabi co-owners regarding land and property rights. Our team of lawyers provides competent advice on steps to be taken to ensure NRIs can enjoy the benefits of their land or properties in Punjab, including remedies for partition of properties and getting them registered in their individual names. Expertise in NRI Property Laws. RK Legal Advisors specializes in handling NRI land disputes in Punjab. We have a deep understanding of the legal complexities involved in property matters and are well-versed with the laws governing NRIs' properties in Punjab.
Call us 24/7 at +91 9872724414 or WhatsApp to receive a free and confidential initial consultation.
Why Choose RK Legal Advisors For NRI Land Dispute in Punjab
Complete Legal Solutions: We offer complete legal solutions for a variety of NRI land conflicts in Punjab, including legal and unauthorised property sales and transfers, unlawful possession of property, encroachment and land grabbing, adverse possession, and disagreements between co-owners.
Prompt and Proactive Approach: The specialists handle these matters in a prompt and proactive manner because they are aware of the urgency of resolving land disputes in Punjab. We put up a lot of effort to safeguard the rights and interests of our NRI clients and try to get good results quickly.
Customised Approaches: Given the distinct nature of every land dispute in Punjab, we tailor our approaches to meet the specific needs and expectations of each client To get the best outcomes, we carefully examine the case's legal and factual components and create specialised legal strategies.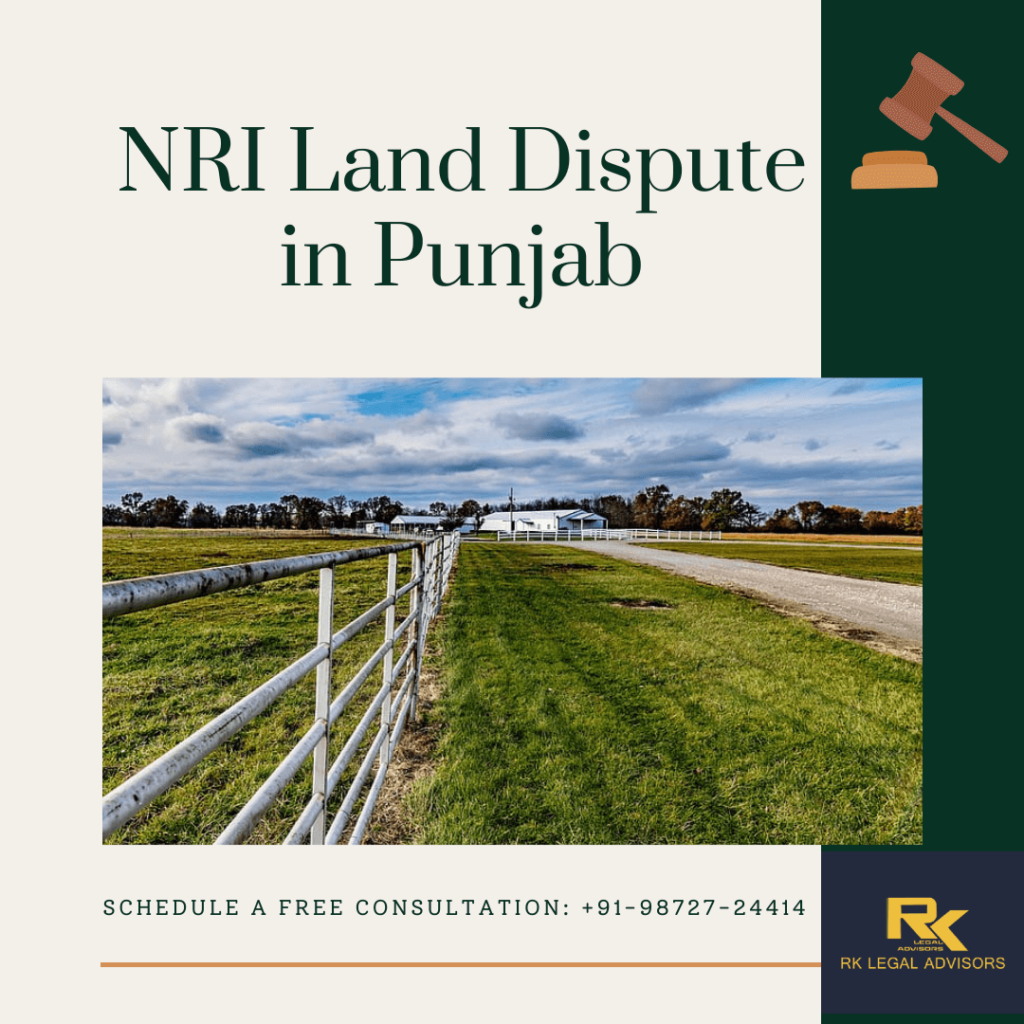 Why our clients prefer us?
A trustworthy partner with unprecedented results and legacy!
Our Expertise Is Earned Through Our Experience
Our Best Team For Your Any Legal Matter in India
Difficult Property Dispute?
Don't Tackle Them Alone. We Can Help. Schedule a Free Consultation!
Trusted By Our Customers
Our clients are the reason we are so passionate about our work. We take the time to know you personally, to understand your challenges, and to build an authentic relationship. We take the time to know you personally, to understand your challenges, and to build an authentic relationship.
⭐ ⭐ ⭐ ⭐ ⭐
B.S Puri
RK Legal Advisors India LLP is a game-changer when it comes to NRI land disputes in Punjab.
.
Their team's depth of knowledge, professionalism, and relentless commitment to resolving complex issues are truly commendable. They took charge of my case, offering comprehensive legal support, from document verification to litigation when necessary. Thanks to their expertise, my family's property dispute was resolved efficiently, and our rights were protected. I can't thank them enough for their exceptional service.
H Dhillon
If you're an NRI dealing with land disputes in Punjab, RK Legal Advisors India LLP should be your first choice
.
From the moment I contacted them, I was impressed by their responsiveness and their ability to simplify the legal complexities of my case. Their legal team is both knowledgeable and experienced, and they guided me through the entire process. With their expert representation, we achieved a favorable outcome in a fraction of the time I expected. I am immensely grateful for their dedicated support and highly recommend their services.
S. Singh
RK Legal Advisors India LLP is an exceptional legal firm that specializes in NRI land disputes in Punjab.
.
Their team's professionalism and commitment to their clients are truly remarkable. They meticulously reviewed my case, strategized effectively, and provided invaluable guidance throughout. What impressed me the most was their dedication to alternative dispute resolution methods, which saved both time and costs. I wholeheartedly trust RK Legal Advisors with any land dispute issue and appreciate their excellent service
Protect your property interests with us?
Given that NRIs are not present in the country, managing property issues and conflicts involving their homes in Punjab offers particular difficulties. To properly handle the variety of potential challenges, NRIs want a reputable and moral law practise with knowledgeable property lawyers in Punjab. R.K. Legal Advisors is prepared, willing, and able to provide complete legal advice to NRIs in all situations pertaining to property in Punjab.
Frequently Asked Questions !!
If you have a question about NRI Land Disputes in Punjab you are in the right place